Eat, Drink & Explore Cambridge​
Lunch with the Cambridge Food Tour
One of the hottest lunch dates in Cambridge! Discover the real Cambridge on a 4-hour walking tour with a local foodie. Expect to go off the beaten track and experience a city as locals do, getting to know the latest food, fine local produce and the hot places to eat in town. These areas and local gems are often off the beaten track, tucked away in an alley or in areas where very few tourists are to be seen.
A fun 5-hour Food Tour, explore Cambridge on our Hidden Cambridge Food Tour away from the crowds, discover delicious food and be blown away by what Cambridge has to offer. This tour replaces the Taste of Cambridge as we want to avoid the busy city centre of Cambridge during the weekends. 
Who would have thought that the English wine scene would be booming 20 years ago? Did you know that we have an urban winery in Cambridge, excellent vineyards just a stone's throw away and a fantastic wine shop specialising in English wine? So we thought it would be an excellent idea to create a tour focusing on the best of Cambridge's local and fine wines.
Celebrating something special or looking for an exciting day out with your friends or family? Let Gerla create your own food tour and build it around your favourite food and drink, and we assure you that people will be talking about it for a long time! ( minimum numbers apply)
Looking to award your team or for a customer event with a difference? Let Gerla create your own food tour, and we assure you, people will be talking about it for a long time! Our Private Food Tours and Events don't come off the shelf. There's no set script – they're created just for you down to the finest detail and are designed around your favourite food and drinks.
Masterclasses and Tasting Events
Gerla loves food and creating unique food tours and events! Through her local knowledge of the food scene and close partnerships with local businesses, the Cambridge Food Tour can offer truly exciting experiences. From bespoke Whisky, Gin and Wine tastings to team building events and Cocktail Masterclasses.
Eat your way through the diverse East End neighbourhood like a true Londoner, seeing amazing street art, stopping at the local chippy and other popular haunts along the way.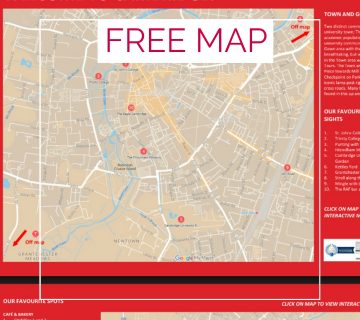 Free Foodie map of Cambridge
Are you looking to visit Cambridge? Keen to find out where to find the best places to eat and drink. Head over to the Free map of Cambridge on which we have mapped out our favourite indie food places. It includes restaurants, cocktail bars, pubs, cafes and our favourite shops.
Verified reviews - TripAdvisor
We had a fantastic food tour experience yesterday. Gerla's knowledge, passion and sheer enjoyment of food and promoting local small businesses shines through during this tour. We absolutely loved all of the varieties of locations and food types that we tasted. I would thoroughly recommend this to people. We had a fantastic family day out! Thank you Gerla
Great tour with Gerla. We went to several great places I would have otherwise walked past. She's passionate and knowledgeable and made the whole day fun. Can't wait to book on again to try some other great places.
Why should you join the Cambridge Food Tour?
Although Cambridge is known as one of the oldest university cities in the world, it's also a city peppered with international cuisine. Enjoy the stunning scenery as you sample delicious local food, delicatessen, street food and the best Scotch egg in town in one of the oldest pubs in Cambridge.