New vegan food in Cambridge
We're halfway through Veganuary. Did you go meat-free and skip on the booze, or did you go for a flexitarian and damp January?
Many people start the new year with new resolutions and often give up a month later, but there is a change. The food trends of giving up meat or alcohol are here to stay as more people have decided to follow a healthier lifestyle.
Vegan food has gained a lot in popularity over the last few years, and veganuary is definitely not only for the first month of the year to come clean. It's a great opportunity to explore how to "diversify your diet" and learn how to benefit from it. Making plants a vital part of your diet, as they do in the Mediterranean, will improve your gut health. As more people realise the importance of including more plants in their diet, the hospitality industry needs to adapt. So who is tapping into this market in Cambridge?
Where to find excellent vegan food
Where to find vegan or plant-based restaurants and caterers in Cambridge? We have taken the hassle away and created a list of our favourites.
Vegan and plant-based food have recently become very popular, and many restaurants have now included vegan options on their regular menu. Vegetables play a big part in Indian and Mediterranean cuisine, so they always have a good selection of plant-based options, so it is fair to say that you can't go wrong here.
So apart from these restaurants, where to go for excellent vegan and plant-based food in Cambridge?
Giggling Squid has launched a vegan menu
The Thai restaurant group, the Giggling Squid, has recently launched a flavoursome vegan menu. It's filled with delectable vegan dishes crafted by Giggling Squid's expert Thai chefs, perfect for enjoying solo or sharing with loved ones. What's more, the plant-based additions aren't just for Veganuary but will feature permanently on the menu, to be enjoyed all year round.
Super club and new vegan menu at Novi
Over the next few months, there will be exciting developments at NOVI Cambridge on Regent Street, including a makeover. The team of NOVI thought it was about time to give their contemporary look a bit of a facelift after 8 years.
On the 28th of January, they kick off their changes with a Vegan Super Club, including some of the dishes which will be permanent on their new Vegan menu that will be launched soon.
Head to their website for more information about the Vegan Supper Club, and keep an eye out on their social media for exciting things to happen.
Vegan and plant-based caterers
Are you planning an event and want great vegan food? Not sure who can cater for this in Cambridge? Here are our suggestions for tasty vegan food for your corporate event, celebration or wedding.
The Botanical Food Lab – private chef
The new kid on the block in Cambridge for bespoke catering is the Botanical Food Lab. The family of Antonia, the face behind the Botanical Food Lab, owned a restaurant in Southern Italy. So it doesn't come as a surprise that she grew up breathing a passion for good food.
In 2002 Antonia decided to change her lifestyle and eating habits, first changing to a vegetarian diet and finally becoming a vegan in 2013. As a scientist, Antonia took her new lifestyle very seriously and decided to learn how to create the best vegan, raw and macrobiotic food from professionals and took cookery classes back home in Italy.
In 2021 Antonia decided to invest further in her future and enrolled in the Food Future Institute cooking school of the American celebrity chef Matthew Kenney. She became so passionate that she decided that food should become her career.
Antonia wants to help people appreciate the benefits of a plant-based diet, assisting them with grocery shopping, meal planning and execution of recipes.
She is keen to spread the Italian culinary culture and traditional cuisine, including regional plant-based recipes from Tuscany, Umbria and Apulia. Besides this, she is a private chef available to cater at home or to local businesses.
Stem and Glory
Stem and Glory cater for all types of events, large & small, including weddings, corporate events & private parties. They do a wide variety of small & medium size events in the London and Cambridge area. For large events and weddings, our catchment is a 60 mile radius around Cambridge and London. Stem and Glory can cater farther afield upon request.
They offer four types of catering: Buffet, street food, 3-course dinner and canapes.
Bibi – Indian cookery classes and catering
Bibi is well-known for her bespoke one-to-one cookery classes at home. There is nothing better than learning the fine art of Indian cooking in your own kitchen. She also is an experienced vegan and vegetarian caterer, but if you wish, she can cater for all diets.
The Wandering Yak
This award-winning street food van in Cambridge, with a focus on serious flavour and nourishing plants and grains, serves food at lunchtime food markets, weddings, private events, corporate events, festivals and parties. The food of the Wandering Yak is all lovingly hand-made, with a focus on plant-based flavour and healthy stuff. Their unique food, professional approach and striking van mean you can rely on them to feed your guests in style and help your event be one to remember. From 30 to 300 guests, they can cater to your particular event with menus and services tailored to your requirements.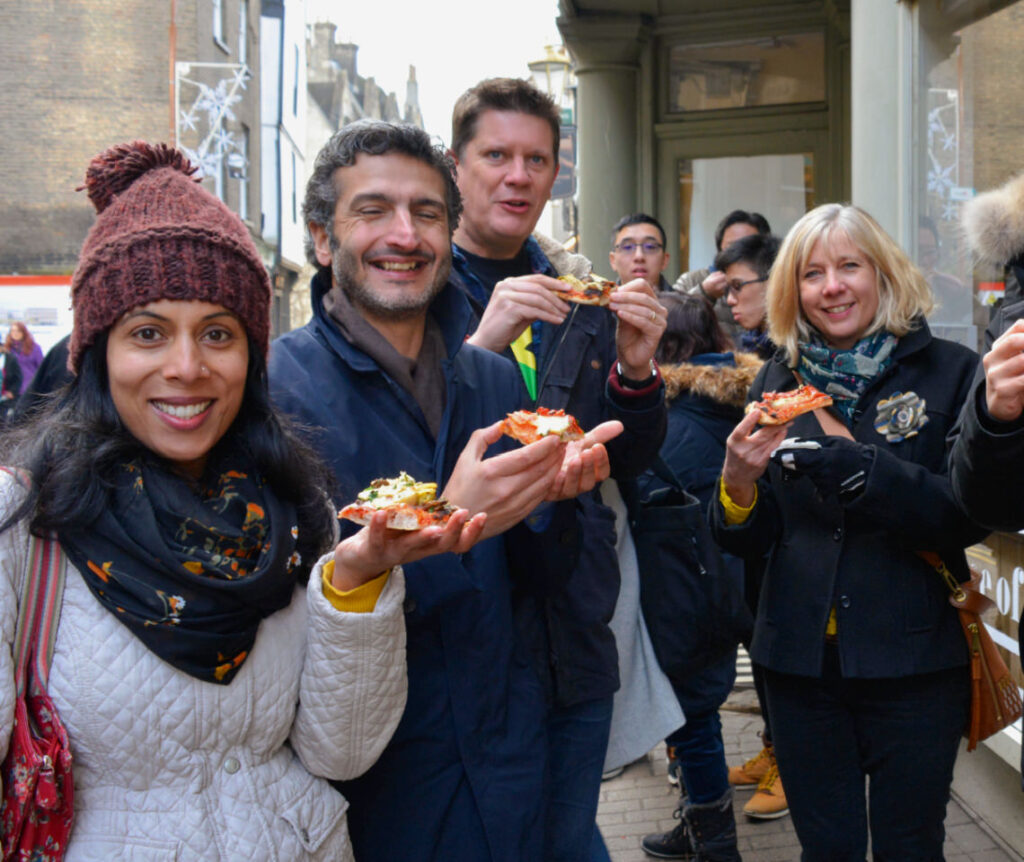 Food Walking Tour
Join Gerla on one of her Food Walking Tours and discover Cambridge through the eyes of a foodie. The food scene in Cambridge has changed a lot since 2012, when she started her tours. There have been many exciting additions to the Cambridge food scene, and vegetarian, vegan and gluten-free food are available at most venues.
Get in touch if you have questions, or book one of her award-winning food walking tours.
Looking for vegan inspiration?
Head over to my Travel and Food Blog for my favourite recipes. Here I share recipes which I love to cook at home.
Gerla