What's new in Cambridge?
2023 is starting with a bang in Cambridge. It's incredible how much is going on. There are new openings and makeovers of existing businesses and exciting events too.
Keep an eye on their social media for the latest updates.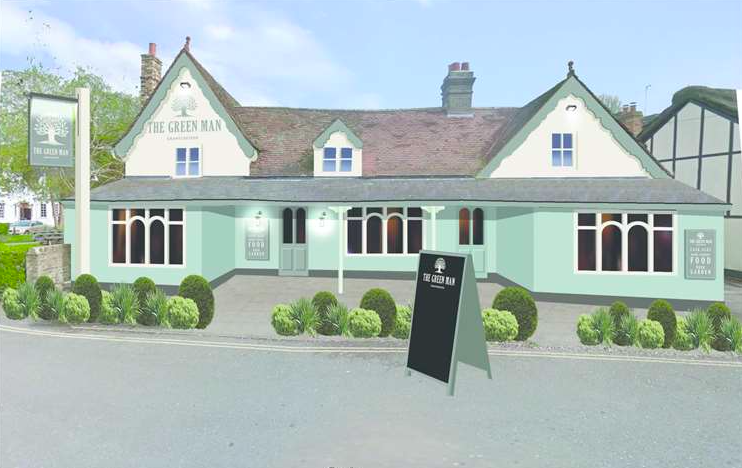 The Green Man in Grantchester
The Green Man's sudden closure in Grantchester shocked locals three years ago, but after a long period of no trading, it will open its doors again soon. The team behind it, Chef, author and television presenter Barry Vera and entrepreneurs Christopher Webb and Joe Scarborough have made major investments to turn this amazing pub again to its former glory.
The Green Man will be again a village local and, at the same time, a destination food venue. They want to attract people who dine out every week, not just on special occasions, so their menu will have a broad appeal. It will be an ode to Bary's upbringing in a Yorkshire pub and elements of his journeys around the world. You can look forward to new takes on historic dishes, such as the traditional Shooter Sandwich.
Little Petra
One of the exciting openings this year, which has been in the making for a long time! Little Petra is a family-run Jordanian restaurant on Mill Road, which soon after opening in 2019, became popular with locals and further afield.
This month they will open their doors on Hills Road, where they will serve up their delicious traditional Jordanian food complimented with a fine collection of wines from Jordan. Although the restaurant is much larger than the cosy one on Mill Road, we recommend booking a table to avoid disappointment.
The Hobson on St. Andrews Street
History whispers from every stone of this Grade Il listed building moments from the green expanse of Parker's Piece. Reborn as a contemporary luxury hotel, its storied past includes stints as
both a Victorian police station and a jail, on a site once owned by Elizabethan philanthropist Thomas
Hobson. But this is no 'Hobson's Choice'. Today, The Hobson is the alternative for independently minded travellers in Cambridge.
A new kind of hotel is coming to Cambridge, the celebrated university city that's moving with the times. The Hobson is a Rogue City Hotel opening soon in its historic heart. The clue's in the name. It's rogue because it refuses to conform, offering a less prescriptive, more immersive kind of luxury.
Cinema at the Grand Arcade
The Grand Arcade is delighted to announce that Everyman Cinema plans to expand into Cambridge choosing Grand Arcade as the next destination for their luxury upmarket cinema!
Everyman is redefining cinema. Bringing an innovative lifestyle approach to our venues, where you swap your soft drink for a nice glass of red wine, and a slice of freshly made pizza served to your seat.
We create a warm and friendly atmosphere with an excellent food and drink selection and fantastic customer service. With a wide array of mainstream, independent and classic films, special events, launches and a diverse calendar of live satellite broadcasts, there is something for everyone at Everyman.
This opening would become the first Everyman in Cambridgeshire, with 15,600 sq ft of space on our first floor. Watch this space for more information.
AfricFood on Hills Road
One of the most popular street food stalls on the Cambridge market will soon have a brick and mortar restaurant on Hills Road. They are excited about the new premises, but there is still a lot to sort out before they can open their doors.
Africfood is a small but healthy upcoming African catering company based in Cambridge. Over the years, they have built a reputation for bespoke service and an excellent catering service to hotels and venues for weddings and corporate across Cambridge.
Watch this space!
The Botanical Food Lab – private chef
The family of Antonia, the face behind the Botanical Food Lab, owned a restaurant in Southern Italy. So it doesn't come as a surprise that she grew up breathing a passion for good food.
In 2002 Antonia decided to change her lifestyle and eating habits, first changing to a vegetarian diet and finally becoming a vegan in 2013. As a scientist, Antonia took her new lifestyle very seriously and decided to learn how to create the best vegan, raw and macrobiotic food from professionals and took cookery classes back home in Italy.
In 2021 Antonia decided to invest further in her future and enrolled in the Food Future Institute cooking school of the American celebrity chef Matthew Kenney. She became so passionate that she decided that food should become her career.
Antonia wants to help people appreciate the benefits of a plant-based diet, assisting them with grocery shopping, meal planning and execution of recipes.
She is keen to spread the Italian culinary culture and traditional cuisine, including regional plant-based recipes from Tuscany, Umbria and Apulia. Besides this, she is a private chef available to cater at home or to local businesses.
Lazy Boys
It's been a few months of grafting and quite a few more to go, but Henry and Jake are proud to announce that they have decided to go on a little fried chicken adventure. You might remember the Oysterlab, a venture by Henry. If you like that, you will definitely love this venture! Although Henry has been a bit quiet, he will be back with a BANG!
They'll be serving delicious crispy chicken at cocktail bar 2468 on Trinity Street to soak up the booze. Keen to tuck into this delicious fare at home? Don't worry; they have that covered too.
Lazy Boys will be on various delivery platforms to deliver the incredible crispy chicken to your home! The opening date is still to be confirmed. Stay tuned for some chicken madness!
SmokeWorks Station Road becomes Slingers
SmokeWorks Station Road is no longer… Don't sob. It has got even better! The team behind the successful concept of SmokeWorks thought it was about time to give SmokeWorks on Station Road a makeover, and we have to admit that it looks amazing!
Slingers is an interactive bar where you can drink, eat, play games and have fun. The perfect venue to meet up and challenge your friends or if you are looking to hold a corporate event. The food is inspired by SmokeWorks so smoking hot! Get your booking in for a fun night out.
YARD
Authentic Italian fare from Norwich.
YARD from Norwich is all about authentic and seasonal Italian food. There is nothing better than a Ciao de Pepe, a Venetian Duck Ragu or Risotto Milanese done well. Don't mess about with these classics. They are amazing as they are.
And the booze? Of course, a good glass of Italian wine but also funky cocktails to kickstart your meal.
Follow them on social media for the latest updates.
A bit further afield – Mark Poynton at Caistor Hall
Mark Poynton teams up with Caistor Hall by Brasteds to open Mark Poynton at Caistor Hall in March 2023.
Mark Poynton of MJP Restaurant got the keys to MJP@TheShepherds in Fen Ditton, Cambridge, in June 2020 in lockdown 1. It opened in August 2020 to rave reviews for its simple, flavour-driven, small plate concept. The Shepherds is included in the Michelin Guide and has been featured in various national papers, including the Sunday Times Top 100 Places for Sunday Lunch in 2022.
Building on this success, we are pleased to announce that we will be adding to the MJP Restaurant family by opening Mark Poynton at Caistor Hall in 2023.
Caistor Hall by Brasteds is a Country House Hotel less than 10 minutes from Norwich, surrounded by beautiful farmland, walks, and spectacular grounds.
Mark Poynton at Caistor Hall will be open from Wednesday to Saturday for lunch and dinner. He will only offer a tasting menu, which will be 5 or 9 courses at lunch and the full 9 courses at dinner.
Mark is delighted to announce the appointment of Byron Franklin as his Head Chef. He is currently working alongside Mark at The Shepherds while helping to develop dishes for the new restaurant, which will be opening in February.
Mark and his team will be sourcing the best seasonal ingredients possible to create light but flavour-driven dishes that will change as and when the seasons dictate.
We are delighted to say that bookings are now open. Please use the form below, and be amongst the first to experience our new menu in this amazing venue.
Pups Brunch at Chez Amelie
Pups Brunch at Chez Amelie is back. Did you manage to go last year? It was a lovely get-together of Cambridge dogs and their owners. The best of all was that there were treats for both. A delicious brunch for the owners and treats for their furry friends.
Chez Amelie at the Cambridge Cookery School is the sister restaurant of Amelie at the Grafton Centre. Their delicious skinny pizza, Flam-kuche, is at the heart of their offering, a crispy Alsatian pizza, but their menu includes hearty dishes like Turkish eggs, pastries, cakes and quiche. As brunch evolves, more dishes appear on the counter, which is the perfect slow start to a Sunday.
The next Pups Brunch is on the 26th of February and then every last Sunday of the month, but please keep an eye out on their social media as there might be some changes.
NOVI Cambridge
Exciting changes at NOVI Cambridge soon! As you might have heard, their sister restaurant KOTA in Eddington, will be closing soon, so the team behind NOVI thought it was a good idea to combine the two concepts.
What can you expect? A makeover of the restaurant since it has been open for 8 years now and a slightly different menu. Don't worry, their amazing cocktails will still be on offer, but they're merging the food menu of KOTA with NOVI's most popular dishes.
Keep an eye out on their social media for their changes.
A bit further afield – The Yard Street Food Market
Finally, a permanent street food market has arrived in Cambridgeshire! I was surprised it has taken such a long time, as street food is very popular in Cambridge and beyond.
From the casual street food vans on the Ely market, the street food scene here moved on to a permanent day every week. Foodie Friday from 5-8pm has become a popular event for the Ely food scene.
This wasn't enough for Bruce and Susanne, owners of Silver Oaks Coffee. They were keen to put Ely properly on the street food map. Recently they acquired a site on Newham street, which is only a stone's throw away from Ely city centre.
The Ely street food market, the Yard, will have a cosy feeling or Hygge as the Danish like to refer to this. The site will be lined with shipping containers, and there will be little sheds to enjoy the food and drinks.
Follow The Yard on social media for the latest updates.
Gerla