A treasure trove of independent shops
Cambridge is a treasure trove of independent shops and galleries. Why not plan a trip to Cambridge for a Christmas shopping spree so you can surprise your loved ones with something out of the ordinary this year? Most of these independent shops are conveniently located in the historic centre of Cambridge, one of the world's prettiest, especially during the festive season. No need to crack your head where to find these indies. We've mapped it out for you! Here is our guide for Christmas shopping in Cambridge, including our favourite places to eat and drink. Happy shopping!
Cambridge's Christmas treasures
It is such a joy that the independent scene in Cambridge is still growing despite the current challenges. I have mapped out Cambridge's Christmas independent treasures, from shops to delis and must-have products made in Cambridge! Keep an eye out on our social media, or watch this space!
The best edible gifts in Cambridge
Looking to buy a present for a foodie, but not sure what to buy? Check out these fantastic foodie shops, they are a true 'foodie heaven'.
The best Winter fairs and Christmas market
Step into a world of festive delights with some of the best Christmas markets and winter fairs. Browse handmade treasures and be inspired for your Christmas presents. Discover unique gifts for your loved ones at Cambridge's Christmas markets and winter fairs, where you can find locally handmade ornaments, crafts, jewellery and much more.
The best art galleries in Cambridge
Are you looking for something special and out of the ordinary? Cambridge's art galleries have not only a fine collection of art but fantastic gifts too. They're reasonably close to each other as most of them are located in Cambridge's Arts Quarter. It's a lovely area to explore and takes you to some of the most scenic parts of Cambridge, cobbled streets, art galleries, quirky shops, restaurants and points of interest. Here is a round-up of Cambridge's art galleries.
Designer gifts
Who doesn't love stunning products created with passion and love? We can be proud to have quite a few independent businesses that beautifully design products from Gin to bags and bespoke watches. Here is our guide for these unique Cambridge products.
Made in Cambridge
All right! We are probably biased….
You've got to admit these products made in Cambridge are pretty cool! Edible or not, we think it is the perfect gift if you are looking for something unusual and made with passion and love!
Happy Christmas shopping!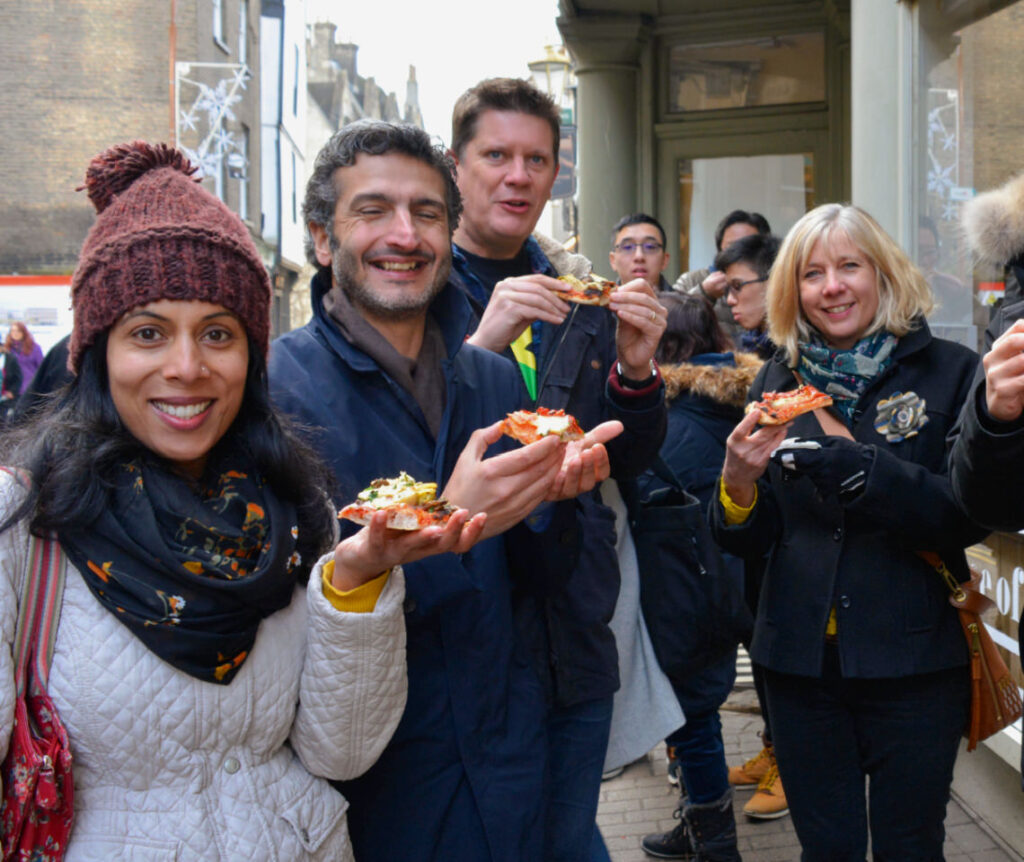 Explore Cambridge's Food scene
Keen to find out more about the local food scene? Come and join me on one of my award-winning Cambridge Food Tours and you will find out!
Get into the swing of Christmas
From glittering Christmas lights and ice skating on Parkers Piece to festive markets and shows, Cambridge is a Christmas wonderland. A perfect excuse to visit one of the oldest university cities in the world.
Take a stroll through the cobbled streets and along Kings Parade, admire the pretty festive lights and decorated windows, and get the most out of your time in Cambridge with our festive guide. Just search for Christmas events in the category field.
The must-have Cambridge Cookbooks
Over the last few years, recreating dishes from your favourite restaurants has become very popular, but since the lockdown in 2020, there has been a massive surge in online cookery classes.
Step away from the scheduled classes and dive into one of Cambridge's cookbooks by well-known chefs and businesses. We have listed the top 8 Cambridge Cook Books featuring their best recipes.
Enjoy the festive season and don't forget to check out our What's on Agenda, the Cambridge portal for what's happening in Cambridge.
Gerla