The best delis in Cambridge
The food scene in Cambridge is booming. Where to shop when you are a foodie and want to pick up the best cheeses or delicatessen? 
Here is our guide of the best delis in Cambridge and we have mapped it out too!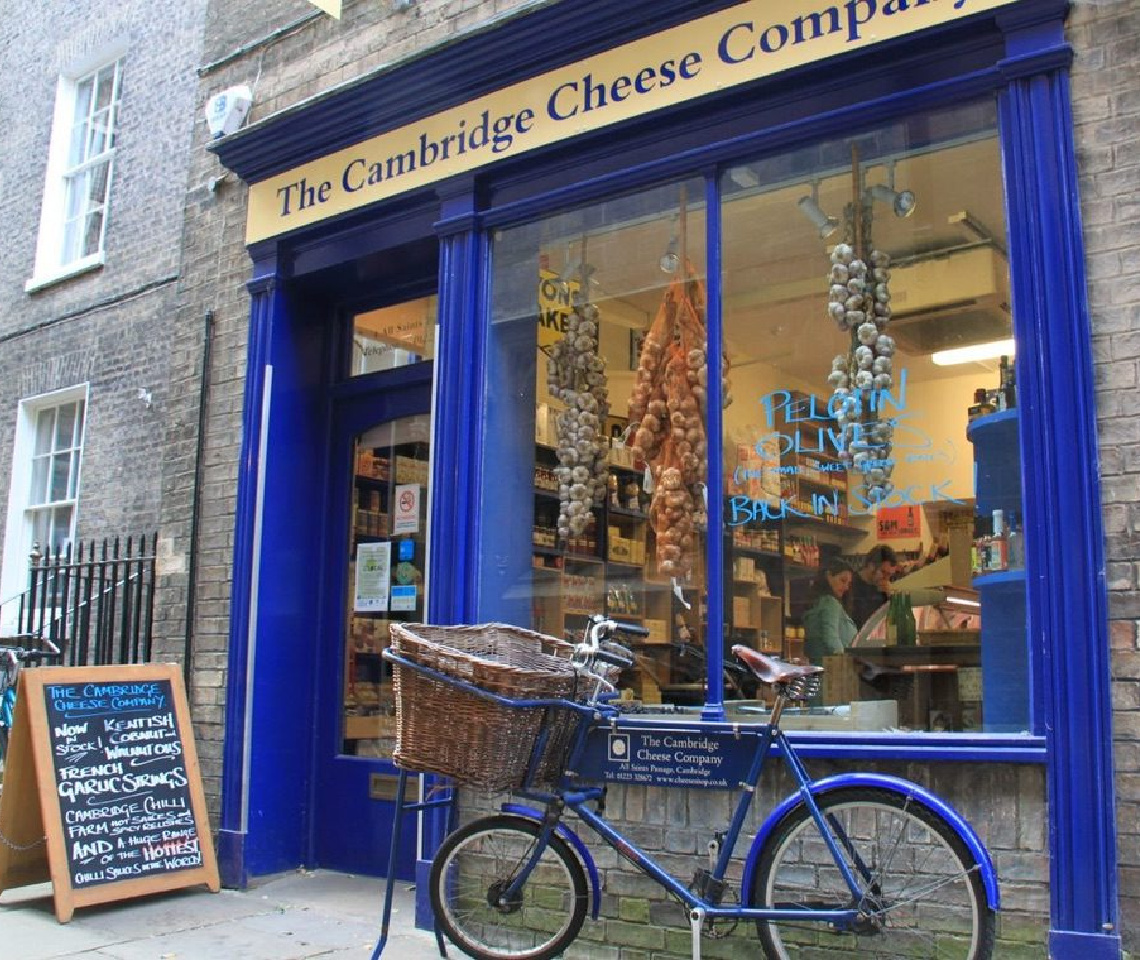 Cheese Co
Tucked away in one of the back streets in Cambridge city centre, All Saints Passage, it is one of our favourite shops. Their commitment is to bring you exceptional artisanal food from across the UK and Europe from passionate producers.
Culinaris
The largest Deli in Cambridge, Culinaris, is part of the vibrant community on Mill Road, which moved to the Old Bank on the corner of St. Barnabas Road in December 2022. Carefully selected products from all over Europe, including a fine range of vegetables.
Limoncello
One of the iconic restaurants and delis on Mill Road, stocking a fine selection of Italian delicatessen and wines. Lovely place for Alfresco dining, a cup of coffee, browse Italian delicatessen or to hang out at their terrace at the back. 
Signorelli's
Good quality Italian food and the passion of Alessandro's is the recipe of an excellent product. The Italian cured meats, cheeses, wine and craft beer, are all sourced from his homeland. With homemade pizzas and bread, recipes with a twist, its' a perfect place to pick up a picnic. 
Il Mercato
The 4th enterprise of Allessandro, Il Mercato By Signorelli, is the first authentic Mediterranean Deli offering authentic products from around the Mediterranean. With so much choice, it's an excellent place to pick up excellent food for your picnic.
Frederic's
Situated on the north side of Magdalene bridge overlooking the river Cam, Frederic's sources artisan food and low-intervention wine and fresh seasonal produce from within the British Isles, France, Italy, Spain and beyond.
Balzanos
Balzano's is a family-run café, bakery and delicatessen, located in the southeast corner of Cambridge city. Established by an Italian pastaciria (cake maker) 50 years ago, Balzano's is every bit true to its authenticity today as it was then. 
Meadows
Meadows is a neighbourhood delicatessen in Newnham specialising in delicious food supporting regenerative farming and small, independent local businesses. Stock up on local and organic fruit & vegetables, farmhouse cheese, artisan sourdough bread, gifts and a lot more.
Shelford
Founded in 1999 with the simple idea of sourcing only the best, naturally produced ingredients to cook with, The Shelford Deli combines high-quality fresh produce, artisan ingredients with a smart new grocery store and cafe and a relaxed, reliable shopping experience for our community.
The Gog
Once upon a time, The Gog Farm Shop on the outskirts of Cambridge was a small enterprise. It is now a thriving, exciting foodie heaven, staffed by enthusiasts and committed to bringing the most wonderful produce from the local area and around the UK.
Radmore
Radmore Farmshop's vision is to bring the best of the farm into the city or straight to your doorstep. Since 2006, Ben and Vicky have stocked the highest quality of food, with passion and love, whether in Vicky's Bakery or from our dedicated group of producers and suppliers.
La Dispensa
New Italian Deli opening on Chesterton Road in September 2022. Watch this space for updates!
Burwash
Burwash Larder started over 35 years ago as a roadside 'honesty box' system to sell the farm's glut of asparagus and sweetcorn. Over the years it has evolved and grown into a modern farm shop and deli stocking local produce, delicatessen and local meat.
Fin Boys
Since the opening of this Fish Butchery on Mill Road it has been one of the local favourites. The Fin Boys, aka Jay Scrimshaw and Richard Stokes, have created a unique fish concept. Fresh fish, Oyster bar, Sunday brunch, a tasting menu, weekly delivery of a fish box and a fantastic deli.
The Outlet
The Farmers Outlet is a historic shop in the heart of Cambridge, selling traditional products using new technology. Purchase the latest in gardening 'must haves' and shop local delicatessen without ever getting in your car.
Flourish
Founded in the summer of 2017 by Calixta which was then a small market garden. She supplies top restaurants in London and Cambridge and opened in 2022 a farm shop selling her produce and from local producers. 
our tip – shop local 
move away from the big shopping centres and shop and eat at lovely independent shops