Where to shop for products made in Cambridge?
Cambridge is a real shopping paradise, and we're fortunate that we have fantastic indies that offer unique products. So where to go if you want something 'typical' Cambridge? Here is our selection for 'Made in Cambridge' shops.
University 
The Cambridge University Press Bookshop on Trinity Street is a unique shop on the country's oldest bookshop site. Apart from showcasing a vast range of the Cambridge University Press's publications, they also have a wide selection of gifts and souvenirs. 
Museums
Right opposite Kings College, you can find the University of Cambridge Museums Shop. The shop sells lovely gifts for all ages, including greeting cards and scientific toys inspired by the diverse and eclectic collections of the eight University museums and the Botanic Garden.
Giles & Co
Giles & Co is one of the oldest independent souvenir shops in Cambridge. They specialise in licensed Cambridge University clothing and gifts. Their sister shop on the other side of the street, Jacks on Trinity, is the place to find all things Cambridge.
Satchel
Cambridge's most famous brand. This satchel was born on the founder's kitchen table to make enough money to send her children to a better school. The Cambridge Satchel was an instant hit with the bags featuring in Italian Vogue in its first year.
Gin 
Our second famous brand is the Cambridge Gin company was born out of walks with the founders' Labrador through the meadows surrounding Cambridge. Their award-winning Gins are distilled in their distillery in Grantchester, which is not open to the public, but they do have a bar on site too.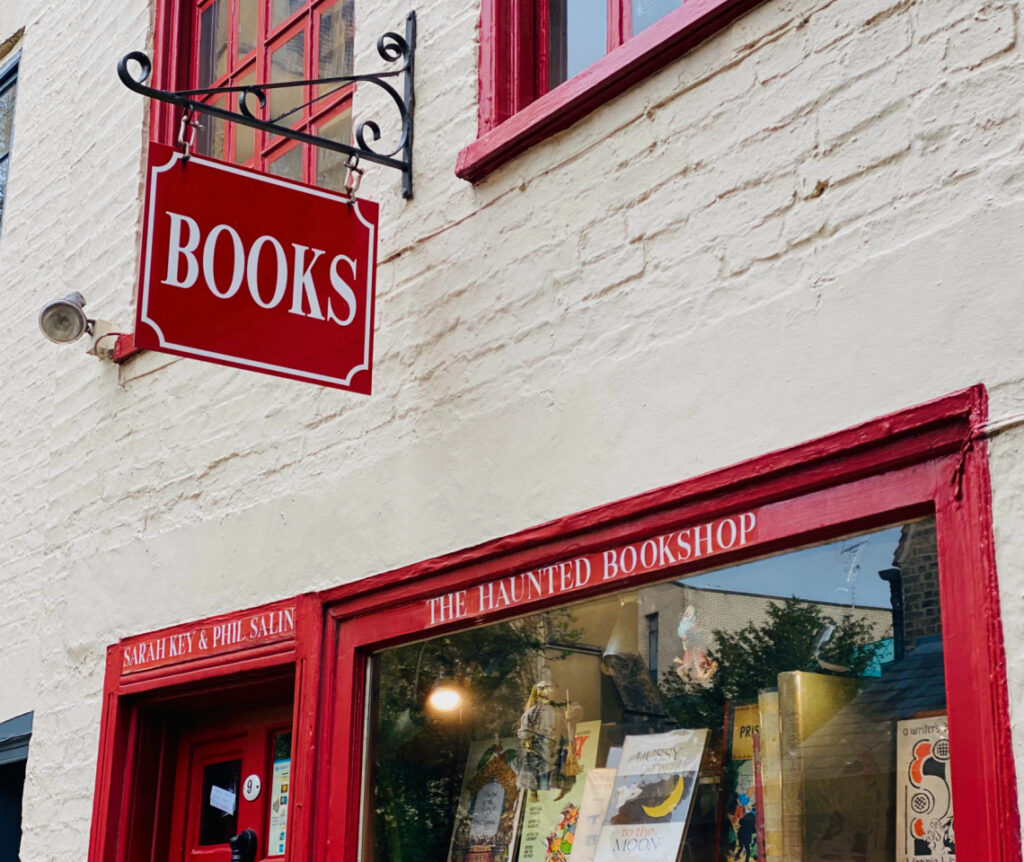 Haunted 
This lovely book shop is tucked away in one of the tiny side streets of Kings Parade. The Haunted book shop specialises in children's and illustrated books. If you are making a long journey or especially wish to speak to the owner, Sarah Key, in person, we recommend contacting them in advance.
Indelibly
Another lovely souvenir shop in the heart of Cambridge situated on Kings Parade. Indelibly stocks unique, vintage, and stylish products, making it one of the best souvenir shops in Cambridge! They also sell hoodies, jerseys, and t-shirts.
Jacks
The sister shop of Giles & Co is one of the oldest independent souvenir shops in Cambridge. Jack On Trinity specialises in all things Cambridge. Their shop on the other side of the street, Giles & Co, is the place to find licensed Cambridge clothing.
Parade
If you are looking for a teddy bear, then this is the place to go! The Parade opposite Kings College is home to some of the oldest teddy bears in the world. They also sell toys, games, train sets and handmade crafted collectables, including ornaments.
Outfitters
Once a gentleman's tailoring, now well-known for its manufacturing of the Academic Robes for all Cambridge colleges. Ryder & Amies are one of the largest suppliers of wool Cambridge University college scarves and manufacture to customers own designs.
Talking T's
This shop will definitely put a smile on your face with their funny and quirky prints on their t-shirts. Talking T's began life selling their t-shirts at the outdoor craft market in the city centre at All Saints Gardens. Pop in for browsing through the eclectic collection or design your own.
Magical Gifts
One of the top Cambridge tourist attractions. The department of magical gifts is a dedicated shop selling official Harry Potter merchandise. This independent shop looks and feels like Diagon Alley, and we can assure you that you will be transported into a world of nostalgia.
The Gift Shop
This lovely souvenir shop is located next to the Magical Gift Shop, previously located in the Guild Hall. Perfectly located to pick up a memory of Cambridge or to book a historic Cambridge city tour. Have a browse, the selection is pretty extensive!
Camb Diary
One of the most unique Cambridge gifts you can buy is Martin Bond's postcards or prints available from the Cambridge Contemporary gallery on Trinity Street. His photos are not only stunning but a good reflection of daily life in Cambridge.
our tip – visit Mill Road
explore, shop and eat the most vibrant and cosmopolitan road of Cambridge